On 2015, Stephan Jenkins and a summer that changed my life
There's a line in the Third Eye Blind song "Graduate" in which lead singer Stephan Jenkins asks, "Do you live the days you go through?"
I'd always sung along with it but, like so many people do with catchy songs, never really stopped to pay attention to what I was actually saying, or put it in context with the rest of the song. One day I decided to search the Internet for what Jenkins was actually writing about. The reality, though, was that it didn't really matter.
You see, the beautiful thing about music is that it's like poetry. The reader, or in this case the listener, can make the song mean what they want it to mean — to them — even if the writer had a completely different intention. That's art.
To me, this song represented the person I wanted to be but was always too scared to become.  Truthfully, I was scared to take any risks to become that person, because for a long time I never felt free to become that person. I felt pressure to be someone I wasn't. To live and act in ways that weren't organic. There are a number of factors that can lead people to feel that way, be it a relationship, pressure from family, societal pressure or even self-inflicted pressure. It's hard to fully enjoy life when you don't feel like you can be the person that God designed you to be.
I have mixed feelings as we usher in a new year. I don't recall a time where I've ever felt nostalgic entering a new year. Typically my mind is always on attending a fun party on New Year's Eve, watching whatever basketball or football games are on around New Year's and pretty much just looking forward to starting a new year. It's never really been a big deal to me.
2015 has a much deeper pull on me. I think as people grow older and look back on their life, there's always a time — whether it's just a season, several months or even a year — that plays a pivotal role in forming who that person will be the rest of their life. 2015 was that year for me.
I will always look back on this year with great fondness, and there are so many things that when I see them will remind me of 2015, or songs that will take me back to how I felt this year. I grew more as a person in 2015 than any other year in my life. I figured out who I was and, more importantly, who I wasn't. There's a certain sense of confidence that comes along with that.
This all really started in June.
I was sitting at my desk at work when I heard one of my editors call out, "Hey, Cole. Do you want to go up in a Blue Angels C-130 and shoot some video?" My internal reaction was "heck no." Outwardly I heard myself reply (timidly), "Uh, yeah, sure. When?" What did I just agree to? I like flying, but a Blue Angels plane? Granted, this wasn't one of the flashy airshow planes that do crazy flips, but I still knew this wouldn't be a normal flight like I was used to.
Publicly I exclaimed my excitement. Privately I stewed, worrying about getting sick and throwing up, then feeling miserable afterward.
Finally, I thought, so what? So what if I get sick? I may never have this opportunity again, and the fear of regretting that quickly superseded the fear of being sick. Well, I did get sick, and I did throw up. But I'm glad I did it. I won an award for the video I shot while aboard the plane, and it was an experience I'll never forget. So, no crying over spilled…guts, I guess.
I had actually considered backing out the plane ride to attend a Third Eye Blind concert in Chicago that was happening the day I was to be on the plane. It was going to be on a Friday, technically an off day for me. I created a bucket list in February with the help of one of my mentors, and atop that list was to see Third Eye Blind live. They have long been my favorite band, and the Chicago show was the last show with of their summer tour in a reasonable driving distance from Evansville.
I had already missed a show in southern Illinois and Indianapolis earlier in the summer. The band has been around for 20 years, and even though they just released a new CD in June, Jenkins is 50 years old. I honestly thought this summer might be my best and last chance to see them in concert. It was Chicago or bust.
I called my best friend Eric, who was living in Traverse City, Michigan at the time, about a week ahead of the show and asked if he wanted to meet me in Chicago for the show. He was on board before I could even finish my proposition. "Ah, crap! That's when I'm supposed to go on the C-130," I remembered. Eric, in the Coast Guard at the time, had been on a C-130 plenty of times, and was adamant that I needed to ride on the plane. "All right…" I thought, dejected.
I immediately scanned the Third Eye Blind tour list again and one stop caught my attention: San Francisco, the last full weekend in July.
Also high on my bucket list is to attend every Major League Baseball stadium, and right near the top of that list was AT&T Park: a beautiful, relatively new stadium that sits directly on the San Francisco Bay with a beautiful view of the mountains and the Bay Bridge. The Giants were going to be playing at home that weekend.
Moments later I called Eric back. "Let's go to San Francisco," I said. The show was in three weeks. Not really a lot of time to plan. "All right. Let's go," he replied. Something I've always admired about Eric is his ability to be spontaneous and not overthink things. I like that I'm a planner, but I believe humans need to be spontaneous on occasion. It's good for the soul.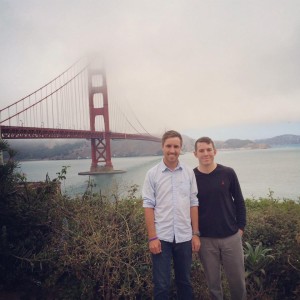 He booked his flight before I could even do it. I looked at the costs of plane tickets, lodging, food and tickets to the game and concert. Upwards of $700 which, for someone working in journalism, is quite bit of money. In typical me fashion, I started to play it safe in my mind and convince myself that it wouldn't work out. It was too much money.
Frankly, it came down to me deciding that this was a trip I had to take. I asked my parents if they would help pay for the trip and said whatever money they gave me could be considered my birthday and Christmas present. They agreed without any hesitation, and I am forever indebted to them for that.
This was a defining trip for me. At the time we planned this, Eric and I were both single guys in our mid-20s who, despite being best friends, had never really taken any trips together. This trip became the embodiment of my own metamorphosis. Never have I really done anything so spontaneous, so questionable. It was borderline reckless to plan such an expensive trip with such little time to prepare and save.
I think that was the point.
I could spend all day writing about all the things we saw and did while there, but there were a few that stood out. The first night we found our way to Thornton Beach State Park in Daly City, about 20 minutes south of town, where we stood atop a cliff side listening to the waves as they crashed upon the sand underneath a full moon. The next day we walked across the Golden Gate Bridge, saw the famous Lombard Street and drank beer at Fisherman's Wharf.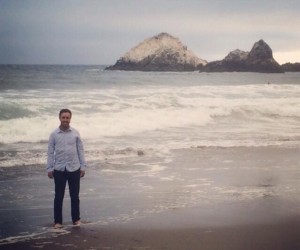 And there was no way I was traveling to San Francisco without visiting Ocean Beach, located on the West Side of the peninsula. This is the beach in which Jenkins writes about in "Motorcycle Drive By," my favorite Third Eye Blind song. After a breakup with a girl in New York, he flew back to San Francisco, got on his motorcycle and drove to Ocean Beach to surf in the rain as a cathartic way to move on from the heartbreak.
We arrived at the concert venue an hour and a half before the show and landed spots on the floor right against the barrier that separates fans from the stage. There was only one row of people in front of us. If I was flying nearly 3,000 miles to see Third Eye Blind, there was no way I was letting locals push me to the back of the venue.
This was the best concert I've ever been to. This was the best trip I've ever been on.
Shortly before leaving for this trip, I met Emily, who I'm now happy to call my girlfriend. When I think about our relationship starting, I'll always remember those early days, when I was on this trip and we Facetimed from that cliff side and exchanged texts daily. I would send her pictures of San Francisco and she would send back pictures of lovely Bowling Green, Kentucky.
If the San Francisco trip was my wedding, the rest of the year felt like the honeymoon.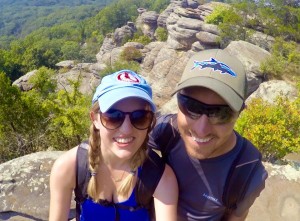 I returned home to a summer and fall filled with hiking, coaching tennis and attending concerts. It seemed like every weekend Emily and I were hiking a new trail in a new city. Somewhere along the way I fell hard for her.
Our tennis team at Mater Dei won the first ever boys' tennis sectional championship in school history and one of our players came within a win from reaching state. For me, it was my second sectional win as a coach after winning one in the Spring with the girls team.
Emily and I attended our first concert together, a Ben Rector show at the Ryman in Nashville, in early October. What's crazy is we bought tickets for this concert the third day after we started talking — in July, just before my San Francisco trip. We had already developed such a strong connection by that point that we knew we'd be together in October, and hopefully longer. Hey, when you know, you know.
Third Eye Blind had also, somewhat surprisingly, just announced a fall tour, so we saw them together in Louisville later in October as my birthday present, then the Zac Brown Band in December, also in Louisville, as part of her birthday present. In between that, I won my first tennis tournament as a player.
December brought a wonderful holiday season in which Emily and I were able to share our first Christmas together, and I was able to see Eric again for the first time since San Francisco.
As the sun sets on 2015, my hope is that everyone can have a time in their life like this year was for me. Identify the areas in your life that you don't feel fit who you really are as a person and make changes to fix that. Always be yourself.
Take risks. See the world. Challenge yourself. Step out of your comfort zone. Try new things. Go to new places. Be spontaneous.
Live the days you go through.