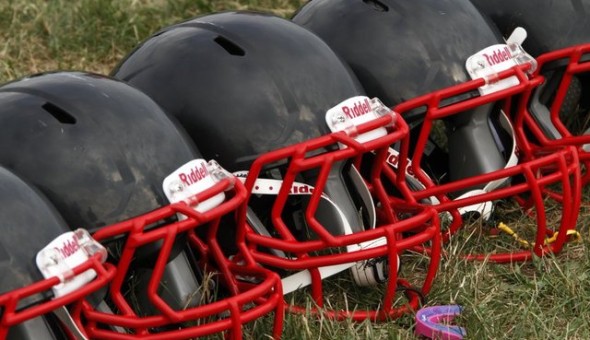 It will light up millions of living rooms on televisions across the country on Sunday.
Football is an insanely popular sport to watch. But some change their tune when asked to consider their child as a football player. Fifty percent of Americans in a 2014 Bloomberg poll opposed their children playing.
It's a sport under attack, and the fear of concussions and long-term brain damage is taking center stage.
Indiana high school football players suffered 830 "concussive events" during the 2014 fall sports season — by far the most of any sport. The next closest was girls' soccer, with 155.
It's such an epidemic across the country that a group of former Illinois high school football players are suing the Illinois High School Association. They want sweeping changes to ensure better concussion management. It's the first lawsuit concerning concussions to target the high school game, and athletic administrators think it could have adverse implications across the country.
It could substantially hamper high schools financially to the point where poor schools can't even afford high school football.
Even in Indiana?
"Oh, absolutely," said Bobby Cox, the commissioner of the Indiana High School Athletic Association.
He called the threat of the lawsuit "imminent."
"It is a serious matter that threatens the core of high school sports, not just football," he said.
The lawsuit wants Illinois to implement standard concussion protocol such as preseason baseline testing; methods to track and report concussions; and requiring medical personnel with "specific expertise in managing, identifying and treating concussions" to be at IHSA football games and practices. It also calls for implementation of educational requirements for trainers and faculty.
Who would pay for those changes is unclear, and that's part of the fear. It could potentially fall on taxpayers.
But Joseph Siprut, the Chicago-based attorney behind the lawsuit, said the endgame is to effectuate change. The idea of eliminating high school football is merely scare tactics from those who want to galvanize that position, he said.
"I don't think you can approach an issue like this in a vacuum and say 'let's only do the things that people can afford,'" he said. "By that logic, maybe people can't afford to have guardrails on a roller coaster. You kind of need to do that."
Siprut is also under no illusion that the IHSA, or any high school association, is made of money, like the NCAA or NFL. He doesn't expect 10 Harvard-trained brain surgeons on the sidelines.
Opponents of the case believe the court system isn't the best vehicle to make these changes, which was a point with which Siprut adamantly disagreed.
"Things are very slow moving. Too many people have to be involved at the same time in the same room to make decisions and it just never happens," he said. "There are times when you need a lawsuit to effectuate change and this is the classic example of where that is true."
Getting ahead of the curve
Indiana, and particularly the Evansville region, implemented years ago a lot of the changes that the Illinois lawsuit calls for.
When the concussion issue became more serious, two doctors from St. Vincent Hospital in Indianapolis, Dr. Todd Arnold and Dr. Pat Kersey, traveled to Pittsburgh to learn about Immediate Post-Concussion Assessment and Cognitive Testing (ImPACT).
ImPACT is a computerized test designed to detect things such as processing speed, reaction time and memory — areas affected if an athlete sustains a concussion. It determines an athlete's baseline, or normal cognitive function. When an athlete suffers a brain injury, they take a post-injury test that compares those results with the pre-injury baseline test.
Baseline testing, as mentioned in the lawsuit, is widely regarded as one of the best practices in helping treat, diagnose and manage concussions. Indiana uses it because Arnold and Kersey realized its importance.
Arnold and Kersey secured a grant through St. Vincent's Hospital in 2010 that paid for baseline testing for Indiana high school athletes at almost 140 schools, roughly half of IHSAA member schools.
The two doctors trained about 200 doctors across Indiana in how to read and administer the ImPACT test.
One Evansville doctor, Andrew Saltzman of Tri-State Orthopaedics, was particularly interested in bringing the technology to the area.
"As we as physicians and the public became more aware of the importance of appropriate concussion management, I became more aware that I didn't think we were doing an adequate job locally," Saltzman said.
Saltzman, with the help of Evansville Vanderburgh School Corp. Athletic Director Paul Neidig, ProRehab and St. Mary's Hospital, formed the St. Mary's Sports Concussion Alliance. Now, several doctors in the Evansville region are trained to read ImPACT tests and help determine if a player can return to the field.
The original grant money ran out, but St. Vincent donates that money each year to continue paying for baseline tests. Now, most schools download the test onto computers at the school's computer labs so the athletes can take the test.
EVSC student-athletes are required to take the ImPACT test every two years, even though the IHSAA doesn't require it.
The EVSC also partners with ProRehab to provide a trainer at each Southern Indiana Athletic Conference school. Trainers attend every varsity football practice and game, as well as other varsity sports at their schools. They decide when an athlete needs to be taken out of a game or when an athlete can return.
Trainers are also responsible for reporting concussions to the IHSAA through a password-protected website.
In total, 12 "concussive events" were reported during the fall sports season at SIAC schools. Mater Dei, with four, had the most. For comparison, 33 schools throughout the state logged at least 12 or more. South Bend Adams had the most, with 39.
This data was part of a comprehensive list compiled by the IHSAA from July 1 to Nov. 30 to track concussions by school, sport, gender, playing surface, location (practice or game) and also how quickly the athlete returned to play. The numbers also include "concussive events," where an athlete was removed as a precaution but not necessarily due to a concussion. The IHSAA will compile a similar list each sports season to study trends to help make decisions on how to better treat concussions.
Neidig said the low numbers were accurate and are a direct correlation to how this region has attacked the concussion issue.
"We've been very deliberate in our movement with this concussion piece," he said. "I do feel like we try to stay in the game and are hopefully one of the leaders of the pack."
That effort enhanced in 2012 when Indiana enacted a law that requires athletes, coaches and parents to receive educational materials that outline the risks of playing after a concussion or head injury. Likewise, athletes suspected of suffering a concussion or head injury must be removed from play at the time of the injury and can't return until a trainer clears them.
Coaches are also required to pass a concussion program that teaches them about recognizing concussion symptoms and provides them protocol on how to handle a potentially concussed athlete.
Cox said Indiana drew from existing IHSAA policies when creating those laws.
Locally, Saltzman credited Neidig with being out in front of the issue.
"Because the EVSC has been so helpful, our system is ahead of most places," Saltzman said. "Having said that, I'd say there's still a lot we can do. But the big advantage here is that a very high percentage of the high school athletes have baseline neurocognitive testing."
Saltzman would like to see the program expanded to surrounding areas.
"Some of the surrounding schools are up to speed, some aren't," he said. "Schools like Mount Vernon, Tecumseh, Boonville have done testing in the past. They have athletic trainers who are aware of this."
Evansville and Indiana are examples of areas that noticed a trend and made sweeping changes to tackle it over the past several years. It still might not be enough.
All it takes is one athlete from years ago claiming they're still suffering ill effects from inadequately treated head injuries to open up a new can of worms in Indiana similar to what the IHSA is facing.
"As much as we've done in Indiana, and as much as Illinois has done and everyone in this country has done, it does not make us immune from being named in a lawsuit," Cox said.
The cost to play
Football is an expensive sport. It's expensive to insure and expensive to outfit athletes with equipment.
For context, a Riddell Revolution football helmet costs between $200 and $300. That could mean upwards of $21,000 just for helmets for a team consisting of about 70 players. Neidig said helmets are replaced almost every year. Shoulder pads are roughly another $300 per player.
Add in junior varsity and freshman teams, and that total price only grows.
Some equipment, such as helmets and pads, is paid for by the school's athletic budget, which is made up of ticket sales, booster donations and other funding. Other items, such as cleats or gloves, comes out of pocket for athletes or their parents.
As far as insurance goes, the EVSC has liability insurance for itself. When parents sign a release for their child to play, they must have insurance for their children.
Only when medical bills reach $80,000 does the IHSAA's catastrophic insurance policy kick in.
"Those types of policies continue to become more and more expensive," Neidig said. "So where that will end up in the future, who knows?"
The ImPACT baseline test, for all its merits, is most effective when it complements other procedures such as a post-injury exam and a full medical evaluation, said Jim Gyurke, chief marketing officer of ImPACT.
Those extra tests costs money.
Unlike the baseline test, the post-injury test isn't covered by the money from St. Vincent. Either school insurance or individual insurance typically pays for the tests. But not everyone has insurance.
Arnold said the test is billed the same way that a procedure would be billed, which can get somewhat convoluted.
Arnold and St. Vincent secured a discount from ImPACT on the post-injury tests, so he buys them at a cheaper rate of $8 compared to the standard rate of $20. Doctors such as Saltzman then buy the tests from Arnold and determine how much to charge the patient. Sometimes athletes may require multiple post-injury tests before returning to play.
That's even more money.
Arnold estimated that St. Vincent purchased 10,000-12,000 post-injury tests for the state of Indiana in 2014.
For some, that added cost might draw a red flag. But Gyurke disagreed. He used a poor school with 500 athletes as an example.
"If you were to buy a package of 500 from us, it would cost you less than $800," he said. "There's no way, in my opinion, that a school district can't come up with $800 for a school. They could have a bake sale if they wanted to and raise $800.
"To blame it on the fact that they're going to get rid of football because of $800 is ridiculous."
ImPACT's most expensive package of $1,200 covers 800 baseline tests and 100 post-injury tests. Baseline tests on their own cost about $5 per person.
St. Vincent has made such a significant commitment to the ImPACT program that Arnold doesn't anticipate the hospital ceasing funding for baseline tests. He did, however, say he wishes another hospital would partner to share the cost.
Neidig is hopeful that the program will continue to be funded for many years.
"Is there a time when testing could get to a point to where it's prohibited without funding from the state? I mean, I hope not," he said. "If things continue to rise — liability insurance, so on and so forth — it could."
So does all of this spell an imminent end to football, particularly at the high school level?
At least one Evansville coach doesn't think so.
"I do think the face of our game is changing and will continue to change until we can provide a sport that's safe for everyone in everyone's eyes," Reitz coach Andy Hape said. "The problem with football is it's an impact sport and it's dangerous. I think most people who play the game know that."
He compared it to driving a car.
"It's all in how you look at it," he said. "I really believe that as long as we're educated and as long as the coaches that are working with your players are educated, I think football is one of the safer sports out there as far as concussions go."