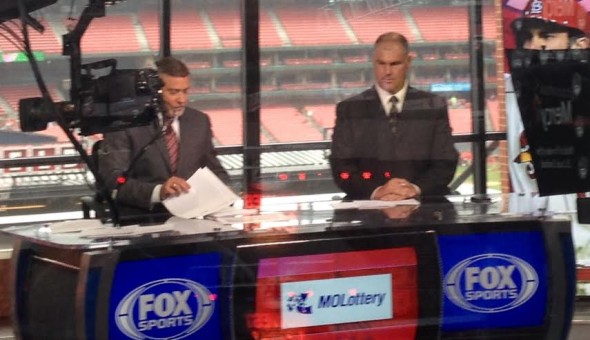 Once Andy Benes signed with the St. Louis Cardinals before the 1996 season, it was never his intention to leave.
The Evansville, Indiana, native who starred at Central High School and the University of Evansville signed a five-year, $30 million extension with the Cardinals following the 1997 season, only to have it denied by Major League Baseball's Player Relations Committee because it came after the deadline for which players could re-sign with their 1997 teams.
"That was devastating to me, my wife and kids because St. Louis was home and we didn't want to leave," Benes said.
Missing the 1997 deadline meant he would have to wait until May 1, 1998, to re-sign with the Cardinals. Instead of missing all of spring training and a month of the regular season, Benes pursued other opportunities and became one of the first players to sign with the Arizona Diamondbacks.
But Benes' heart was still in the Midwest, and in particular St. Louis. He declined the option on his contract following the 1999 season and left Arizona to become a free agent with the hope of returning to the Cardinals.
"I really wanted an opportunity to play for the Cards again," said Benes, who was the No. 1 overall pick in the 1988 MLB Draft. "I didn't know if that was a possibility before turning down my option, but I wanted to explore that.
"I'm a Midwest guy and family is in the Midwest. St. Louis was home beginning in 1996 and I wanted to finish my career here. My in-laws were in Evansville and that obviously made it easier for us to see them as well as other family."
The Cardinals, needing to bolster their pitching rotation, brought Benes back before the 2000 season. He played his final three seasons with the Cardinals before retiring after the 2002 season.
"We ended up in a good spot, Arizona," Benes said of his departure from St. Louis. "I have great memories from my Diamondback days, but I was happy to end my career with the Birds."
Now Benes makes his home in St. Louis where he's become a mainstay on television for Fox Sports Midwest ever since he retired. He co-hosts a kids TV show called "Cardinals Kids" with Fredbird, the mascot. The show, which has won an Emmy, is now in its 12th year. He's actively involved in the community and even helps coach baseball at Westminster Christian Academy, where his son Shane and Cardinals manager Mike Matheny's sons played.
But Benes hasn't forgotten his roots. With his in-laws no longer in Evansville, he admitted he doesn't visit Evansville as often as he'd like. But he stays in contact with plenty of people who helped shape the man he became.
"I had tremendous coaches in high school and college who believed in me as a player and a person — Paul Gries at Central High School and Jim Brownlee at U of E," Benes said. "They pushed me to be the best that I could be and reinforced a work ethic and a desire for excellence that was inside of me. They held me accountable and challenged me to lead.
"I was certainly a late bloomer as I went from throwing 90 to 100 miles per hour between my sophomore and junior college seasons. It was an amazing time in my life as I was newly married in college and then a year later picked No. 1 overall and representing the USA in Olympic Games. A fast rise but great memories, and my coaches were certainly a part of that."
Perhaps more impressive than anything else, said Brownlee, is that Benes hasn't changed from the kind, intelligent and generous person he recruited back in 1984 out of Central. He helps out with a fundraiser that Jim's son Ryan is involved with as coach of Western Illinois' baseball team and even adopted two kids from Siberia.
"He's a special guy," Brownlee said. "I can pick up the phone and talk to him any time … He's got his head on right and he remembers where he came from.
"He gave part of his bonus money back in a scholarship form to the University of Evansville. He's always helped the program and he's been very kind to our family."
Benes said he has no interest in getting back into professional baseball as a coach, even with the Cardinals, because the travel would take him away from his family. He's content with his television duties, which also include about 15 pre- and postgame appearances each season on Fox Sports Midwest, and simply being involved with the Cardinals community and the city of St. Louis.
"He's like the mayor of Busch Stadium if you ever get around him there when he's walking through," Brownlee said. "He knows the equipment guy. He knows the hot-dog vendors. They all talk to him like they're long lost friends. It's amazing. He knows everybody, and that's his personality.
"He had a great career — 14 years in the big leagues — but I'm more proud of him now for what he does for the community and what he gives back. Being a great family man, he's got great support from his wife (Jennifer). She's a great person and they're doing great things."
This story was originally published in the Evansville Courier & Press